MINING
Ever since its founding in 1851, the Bochumer Eisenhütte has been actively and passionately dedicating itself to mining for over 165 years! In 1932, Heinrich Toussaint and Egmont Heintzmann truly revolutionised the construction of underground mining sections and their invention – the TH section – is named after them for good reason.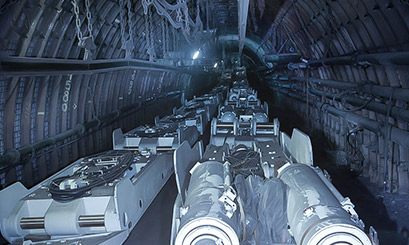 ADVANTAGES OF THE TH SECTION
The continuous further mechanisation of mining, as well as the ever-increasing depths of mines, is largely attributable to this important invention of the Bochumer Eisenhütte. Before the TH section, rigid sections consisted of brick walls, wood, or steel. In addition to the greater depths, pits have grown increasingly complex and large up to this very day. With a large range of compatible weight classes, the TH section (yieldable arch support) literally supports the increasingly extensive challenges modern pits pose to miners and tunnel builders – quickly, safely, and affordably: to extract raw materials, construction traffic routes, or create hydraulic structures – in Germany and everywhere else on the planet. Further advantages can be achieved through targeted heat treatment.
THE GI SECTION
A brief review of 1955: Bochumer Eisenhütte has developed a special process for the heat treatment of pit lining profiles, including the necessary machinery and plant technology. The outstanding properties of these hardened and tempered TH profiles are the result of the homogeneous microstructure. This is the prerequisite for a higher, economically usable yield on stolen straightening material and for a defined insertion of the TH profiles when used as flexible pit supports.
Speaking of flexible mine support: Of course, the TH profiles can also be realised as a rigid support using a plate joint butt, for example, – while complying fully with the technical support requirements. As a complement to the TH profile, the Bochumer Eisenhütte range includes a special GI profile: The GI cam profile for rigid pit lining – straight or curved and of course also optionally quenched and tempered according to customer requirements – for improved material property qualities.
CONNECTIONS
The Bochumer Eisenhütte has, in parallel to the ground-breaking development of TH sections, developed the corresponding connections. The extensive accessories include connecting clamps, bolts, jointing shoes, load distribution rails, forepoling sheets, and many more products for high-quality mining support.
Naturally, this also includes lagging mats and the necessary rock bolts for combination pit supports. All relevant construction products are available with a mining permit.
As a systematic supplement to our TH support segments and lattice arches, we offer a range of rock bolts to our national and international customers, tailored to their mining, tunnelling, and general construction needs. They are additionally suited for special civil engineering. The rock bolts comply with the DIN EN 21 521 standard.
Our range of rockbolts and accessories includes:
Rock bolts based on threaded steel as an adhesive anchor
Reinforced concrete anchors
Expansion anchors
Friction bolds
Injection-drill anchors
SN anchors
Load anchors for transferring static and dynamic transport stresses as in overhead monorail operation
Self-drilling tube spiles
Accessories via anchor plates, connection sockets, load step indicators
Galvanisation according to specifications
On-site consulting
HYDRAULIC SINGLE PROPS – STEEL/ALUMINIUM
Hydraulic single props have been in use in coal mining for over 60 years, for longwall support, repairs, or temporary support. You will certainly find the most suitable piece for your application with standard lengths, tried-and-tested components, as well as the option of using light metal or steel as tube material. In addition, Bochumer Eisenhütte will be happy to supply you with the spare parts or repairs you need.
Engineering
Our mining and design expertise, together with decades of experience in steel treatment, forms the basis for the planning and realisation of custom underground construction designs.
TH SUPPORT FOR MAIN AND BLIND SHAFTS
CUSTOMERS AND REFERENCES
Our customers and references include well-known national and international companies from the fields of structural engineering, mining construction, gallery construction, sewer construction, road construction, as well as infrastructure.